Part 3: Long or Short ? Order Types And Calculating Profits & Losses
• Lot size / Contract size
In Forex, positions are quoted in terms of 'lots'. The common nomenclature is 'standard lot', 'mini lot', 'micro lot', and 'nano lot'; we can see examples of each of these in the chart below and the number of units they each represent: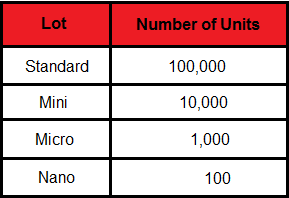 • How to calculate pip value
You probably already know that currencies are measured in pips, and one pip is the smallest increment of price movement that a currency can move. To make money from these small increments of price movement, you need to trade larger amounts of a particular currency in order to see any significant gain (or loss). This is where leverage comes into play; if you don't understand leverage totally please go read Part 1 of the course where we discuss it.
So we need to know now how lot size affects the value of one pip. Let's work through a couple examples:
We will assume we are using standard lots, which control 100,000 units per lot. Let's see how this affects pip value.
1) EUR/JPY at an exchange rate of 100.50 (.01 / 100.50) x 100,000 = $9.95 per pip
2) USD/CHF at an exchange rate of 0.9190 (.0001 / .9190) x 100,000 = $10.88 per pip
In currency pairs where the U.S. dollar is the quote currency, one standard lot will always equal $10 per pip, one mini-lot will equal $1 per pip, one micro-lost will equal .10 cents per pip, and a nano-lot is one penny per pip.
To Continue Reading Go To The NextPage