• Professional Forex traders vs. amateur Forex traders
Professional Forex trading might seem like something of an elusive or difficult goal for those of you struggling to trade profitably or just beginning to trade. But, there are a few key differences between pro traders and amateur traders that you should be aware of to help you improve your trading or get started on the right track if you are a newbie: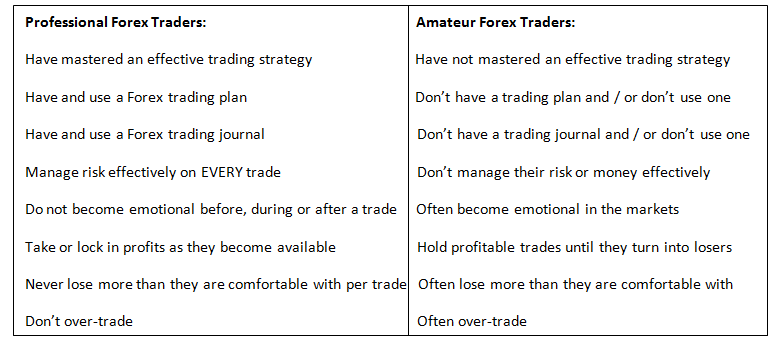 • The important role of Banks in Forex trading
Banks play a very important role in FOREX trading. In fact, most of the market plays against larger banks, hedge funds and big-money players. Commercial banks (such as Deutsche Bank and Barclays) provide liquidity to the Forex market due to the trading volume they handle every day. Some of this trading represents foreign currency conversions on behalf of customers' needs while some is carried out by the banks' proprietary trading desk for speculative purpose. The bottom line is that we retail Forex traders are small-change compared to the bigger players like commercial banks, hedge funds, and other big players. We can profit from the moves these big players cause in the market by finding our own edge in the market and trading it with discipline.
All Articles In This Category:
Part 1: What Is Forex Trading ? – A Definition & Introduction
Part 2: Forex Trading Terminology
Part 3: Long or Short ? Order Types And Calculating Profits & Losses
Part 4: What is Professional Forex Trading?
Part 5: What is Fundamental Analysis?
Part 6: What is Price Action Trading Analysis?
Part 7: Introduction to Forex Charting
Part 8: What Is A Forex Trading Strategy?
Part 9: Common Forex trading mistakes and traps
Part 10: What is Technical Analysis?
Part 11: How to Make a Forex Trading Plan
Part 12: The Psychology of Forex Trading